** This post contains affiliate links. I will be compensated when you click and make a purchase. Thank you.**
My expectations in most hotels in the city centre is not really high in Amsterdam. Most of them are pricey for their looks and cleanliness. And most small and older hotels have plenty of stairs than lifts due to the fact that these buildings used to be residential buildings converted into a hotel.
The Hotel Continental in Amsterdam is one of those small and a bit old hotels in the city centre within few metres away from the Amsterdam Centraal. Since it is old, it has stairs and lots of them!
What I like:
The location is so perfect especially when you have 2 big luggage in tow, coming from the Amsterdam Centraal from the airport. It is around 5-10 minutes walk from the main train station and that is certainly a plus!
It is easy to find since it is just along Damrak and next to the very famous Mannekin Pis Fries where most tourists flock to get a taste of the fries and the many flavoured sauces (honestly, the fries are just the same as the other fries' kiosks along Damrak! My opinion).
Close to food outlets, shopping mall, and Albert Heijn for my quick deli snacks, cut fruits, and smoothies (my go-to grocery when in Amsterdam)
Close to some tourist attractions along Damrak
Near travel agencies arranging land tours
The understanding and considerate management and staff (Mario, who helped us with the supposed move to a lower floor, only to be disregarded by another staff named Faiz). The management refunded by unused one night stay when hubby and I decided to just book to a different hotel on our last stay to be comfortable and stress free.
The fat cat! Yes, they have a pet cat and it is fat! I enjoyed playing with the cat while I was in the lobby trying to sort our room predicament. Somehow, the cat helped me eased my tension when I was about to flare up because of the mix up.
The vending machine in the lobby if you felt too lazy to go out and get some water, beer, snacks, etc.
Our attic room has its private bathroom and wash closet.
Search rooms here:
What I don't like:
Well, my expectations are not high but I was still very disappointed because even while booking the hotel, I already mentioned in my request to be booked in lower floors since hubby and I have knees and back issues. The hotel even confirmed receipt of the special request. So, upon checking in, I was very surprised to be informed by the staff that we were lucky because we got the top floor. I was totally taken aback and informed him that I requested for lower floor because of the back and knees issues. After showing him my email and the confirmation from their hotel, he noted that there would be a vacant room on the first floor and he indicated that on their manual ledger. He even advised us to keep our stuff inside the luggage so they could just move them while we are touring. Long story short, the next day, our new room was given away by another staff to another couple who just booked. While our note to move as already confirmed but disregarded by the other staff. It was a stressful stay for us so hubby and I decided to move to a nearby and slightly cheaper hotel along Damrak but has a lift.
Steep stairs! I am aware of the stairs on most properties in Amsterdam; hence, the request to be booked on lower floors. But the room was on the attic and carrying luggage to and from the room was not an easy feat! Maybe if I was in my 20s! Let us just say that my back ached for a good 3 weeks after that debacle… Never again.
The wifi was very poor since we were on the very top floor.
The walls are thin and we could hear the loud television from the other room in the attic.
The lobby area smells and reeks of weed because it is located near some coffee shops in the alley. Unless you are there for that purpose then you will enjoy this hotel's location.
The sink outside the bathroom. When you use the bathroom, either you wash your hands by opening the shower or you use the one outside near the room's door.
The bathroom was dark and dingy looking. I think the shower curtain hasn't been changed for a while.
The small double bed. For some reason, it is too small to be called double bed.
The tattered towel. Don't get me wrong, their towels are clean but one has a hole.
The room was a bit warm even if we didn't use the heater. We couldn't open the window even for a bit to let the air circulate. I could imagine how hot that room will be during summer.
My recommendations: 2 out of 5
The redeeming factor about this hotel is its location and the considerate management who understood our predicament and returned/refunded our unused one night stay without much fuss. The amenities are okay as long as you are in the lower floors. It gets hot and stuffy if you are in the upper floors since the window is locked.
We booked here last June 22-23, 2018. The weather was very nice so at night, it was okay. I could just imagine how hot it would be if it was the peak of summer. I didn't check if they had electric fan but I hope they do for those who consider to travel during the height of Netherland's summer weather. It can be humid and hot.
If you are not a very fussy traveler and prefer a short walk to and from the Amsterdam Centraal, then this hotel is for you. If you don't have any back issues and knees problem, then this hotel is for you. It has plenty very steep stairs and if you're lucky like us, you may get the upper room in the attic and you'll be in for a big surprise, stairs and all!
I will not recommend this hotel for elders, those with mobility issues, big families, and families with kids, as they don't have lifts and carrying bags will become a serious issue and the scent of weed coming from the nearby coffee shops may not be good for younger folks.
If you like a budget hotel and won't mind all the other inconveniences, then this hotel is the right choice for you. I paid EUR 370 for 3 nights excluding the 6% municipal tax. We found another hotel for only EUR 96 per night with a lift and just few buildings away from this hotel. The other hotel is newer with a clean room, luggage stowage area, windows that can be popped open, with electric fan and clean and spacious bathroom. I will review the other hotel later.
This hotel is perfect for solo travelers or groups of people without children and any mobility issues who can go up and down steep staircases.
Nearby attractions:
The Royal Palace
National Monument
Dam Square
Red Light District
Flower Market
Kalverstraat shopping area
Canal ring
Madame Tussaud's Wax Museum
Oude Kerk
De Nieuwe Kerk
Ripley's Believe It or Not Museum
Body Worlds
Sex Museum
The Amsterdam Dungeon
Find and book Amsterdam tours and activities on Viator.com. Book ahead to save time and money!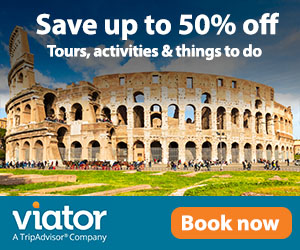 You can book this hotel here or similar ones:
Hotel Continental, also known as Continental Centre Hotel is located at Damrak 40 – 41, Amsterdam City Centre, Amsterdam, 1012 LG, Netherlands