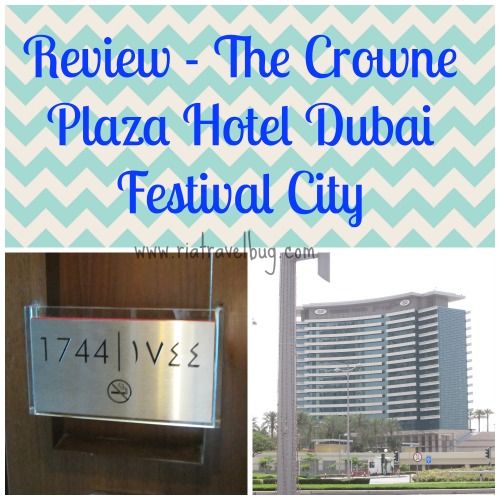 What would be more exciting than spending your birthday in a nice, posh hotel, over-looking the Dubai Creek! I just had a wonderful and quiet celebration in one of the best hotels in Dubai – The Crowne Plaza Hotel Dubai Festival City last 14-15 March, 2014.
I always check the rates of this hotel from either Booking.com or Hotels.com but there is never the right moment where I could actually get a good deal. Reason being, if I have to be practical, it is not a low-budget hotel. But if fate would have it, we were meant to spend my birthday in this hotel.
My husband booked an overnight stay in Crowne Plaza Hotel Dubai Festival City for a Deluxe Room with King Sized bed. He got a good rate directly from the hotel because he has IHG Loyalty Card. Aside from getting a good rate, we were also given a room in the 17th floor and with a creek-side view. Isn't that amazing?
The Crowne Plaza Hotel Dubai Festival City has a 5-star rating and is a part of the InterContinental Hotel Group family of brands. It is located in the premises of Dubai Festival City adjacent to the InterContinental Hotel.
My family and I certainly enjoyed our stay there. Aside from being treated like royal guests, I was also presented with a birthday chocolate mousse cake, delivered to our room few hours after we checked in! I must thank the manager, Mr. Emad Ramzy for organizing the whole thing and not only that, the cake came with a birthday card signed by some of the staff in Zaytoun Restaurant. I truly appreciate the gesture and the thought! It's one of the best birthday cakes I have ever tasted in my life!
What I like:
Room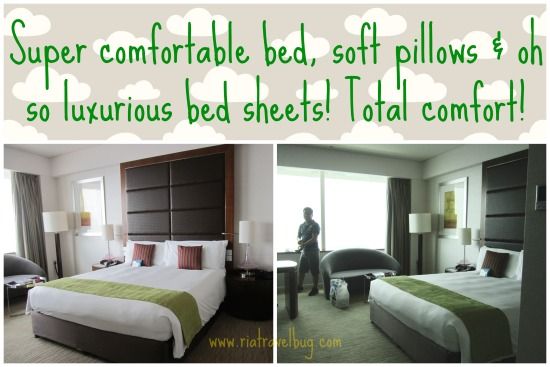 Very spacious room
Super comfortable bed! This hotel happens to have a Sleep Advantage program where every guest's comfort is taken to the highest esteem. We arrived in our room and found a blue pouch with a sleeping mist for our pillows and Breathe In roller for the pulse which you will inhale to help you clear your head and relax. The spray and roll are infused with Frankincense, Eucalyptus, Lavender, Vetivert and Camomile. It was really nice of them to ensure that we get our good night's sleep. We actually did!
There is a spare pillow and blanket.
The roll-out extra bed was free for use for my daughter and it only took few minutes for the staff to get it assembled in our room.
Very clean room
Huge bathroom with a huge bathtub, great for soaking!
The bathroom amenities like the shower gel, shampoo and conditioner all smelled so good.
The huge desk for me to get down to business with my blogs.
The free and unlimited wifi use in our room.
The mini-bar is well stocked with expensive brand of water and liquor. No, we didn't consume any!
I love that aside from coffee, they also have a choice of chocolate drink from the free condiments.
The flat screen TV can be loosened from the wall and can be moved in different angles. I enjoyed it so much that even if I was sitting on the study area, I could still watch the TV.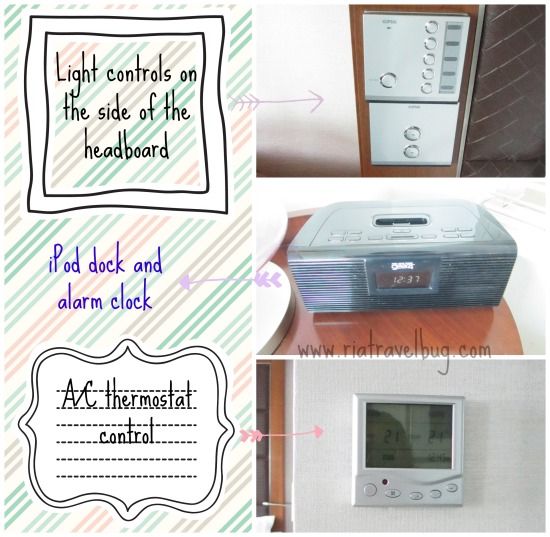 Lobby


It was not very crowded when we checked in. Normal check in time is 2 p.m. but we were allowed to check in around 12 noon.
The check in process, and so was the check out was a breeze. It just took barely 5 minutes to get everything done.
Not a very noisy area so you can actually sit and read a good book there and you don't get disturbed.
The staff from the valet, bell hops to the reception and Concierge are all courteous and amiable. They greeted us with a smile all the time. We felt like VIPs!
Amenities/Facilities


They have several pools so it will not get crowded.
The gym is well lit and has attendants to provide you assistance.
The Zaytoun restaurant has wide selection of breakfast buffet. We all loved the selection!
Perks
We were allowed to stay until 2 p.m. because of my husband's IHG Loyalty membership.
we were given 2 vouchers for a complimentary beverage we can claim from the Mazar Lounge (a coffee shop in the lobby) or at Zaytoun.
Free valet parking
Location
Ideally located in the same premise as the Dubai Festival City. It was easy to grab a bite in the wide variety of food selection in the food court and to while away our time while in the hotel.
There are plenty of cabs at the ready if you need to hop on one and decide to visit other attractions nearby.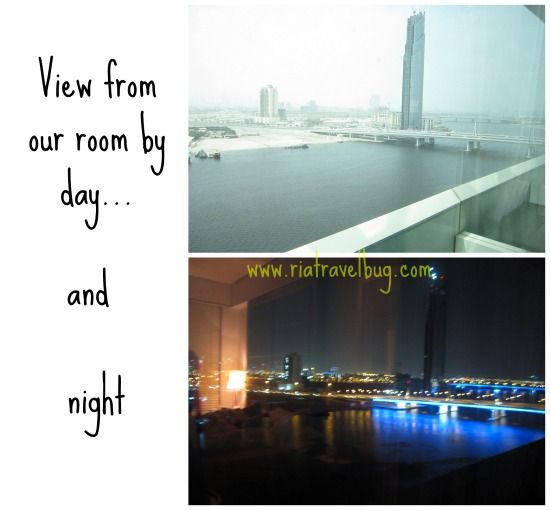 What I don't like:
NOTHING. I enjoyed every moment of our brief stay there. If I had a choice, I would have stayed longer. So I could have explored and tried more of the property's amenities and facilities.
Price:
AED 966.60 inclusive of tax (FIT rate) (approx US$ 265/night with taxes)
Room type:
1 King Bed Deluxe Dubai Creek View
Meal plan:
There is no meal plan associated with the rate. We had our breakfast buffet for AED 110 each (approx US$ 30 per head).
Amenities:
Bathroom and personal care available such as bathrobes, slippers, toiletries (toothbrush and extra shampoo, conditioner, gel and soaps are available upon request), clean towels
Shoe polish
Laundry service
Hair dryer
Pressing table
Flat iron
Bath tub
Bidet
Mini-safe
Percolator and condiments supply
Mini-bar and mini-ref
Flat TV
High tech telephones with speaker phone
Individually controlled air conditioning thermostat
iPod dock with alarm clock
Electronic turndown notice (a light will be lit if you switched this on and the housekeeping will not clean your room)
24-hour gym
Spa
Pools
Valet parking
Business center
Secretarial services
Baby-sitting
Access to Dubai Festival City via InterContinental Hotel
Nearby attractions:
Dubai Creek and boardwalk
Dubai Creekside Park
Al badia Golf Club
Burj Khalifa and the Downtown Dubai
My recommendation: (1-5, 5 star being the highest)
I highly recommend this hotel both for leisure and business purposes. You are assured to get enough rest with peace and quiet comfort as the main goals of the hotel property. Location is perfect. The rate is okay considering that you actually get what you have paid for – comfort, security and fun!
I am giving this property the highest rating of 5 stars! It deserves to get that 5-star rating as it lives up to its 5-star image.
To know more about this hotel, you may visit their website.
If you want to book a stay in this hotel or other hotels in Dubai, please search and book here:
Disclaimer:
I was not compensated to do this review. My opinion is 100% mine and may vary from yours.