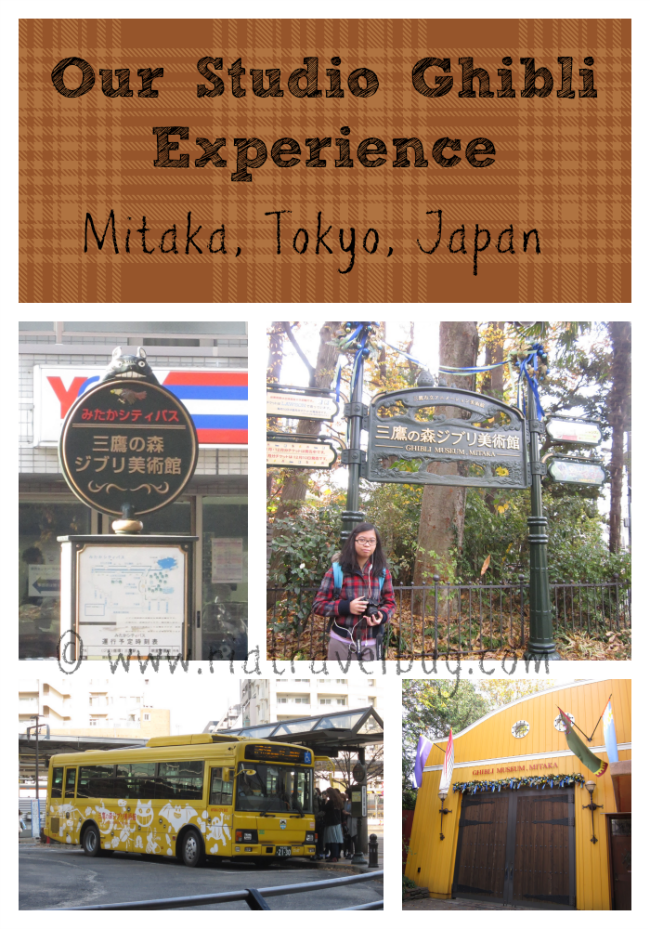 My daughter and I are avid fans of Studio Ghibli. We have both watched a lot of Studio Ghibli movies countless of times and we could repeat the dialogues over and over. You can now imagine how fanatic we are of Studio Ghibli!
So, it is a dream come true to visit the place where beautiful Japanese animation started. Well, technically, it's the museum but to be in that place is just magical! So, when we finalized the plan to travel to Tokyo as early as October, I booked our Studio Ghibli Museum entrance tickets in advance because you couldn't enter the museum without the voucher of the paid entrance pass and booking.
Studio Ghibli is a Japanese animation production company created in 1985 by Hayao Mizayaki and Isao Takahata. It is the famous studio behind the animation releases like Howl's Moving Castle, Kiki's Delivery Service, My Neighbor Totoro, Grave of the Fireflies, The Cat Returns and many more. The English-dubbed version of the movies were dubbed by famous Hollywood thespians like Christian Bale (Howl in Howl's Moving Castle), Billy Crystal (Calcifer in Howl's Moving Castle), Kirsten Dunst as Kiki, Anne Hathaway as Haru in the Cat Returns. They are just few amongst the top actors and actresses who lent their voice in the English version which were all released by Disney.
I guess you can see by the pictures I have posted here how wonderful we felt stepping in the realms of our beloved Studio Ghibli Museum. I compare the feeling to stepping inside Disneyland, the happiest place in the planet. And yes, even if I am exaggerating, I cannot put into words the happiness my daughter and I felt being there, soaking all the wonders and beauty of the museum even for just few hours. It was worth it!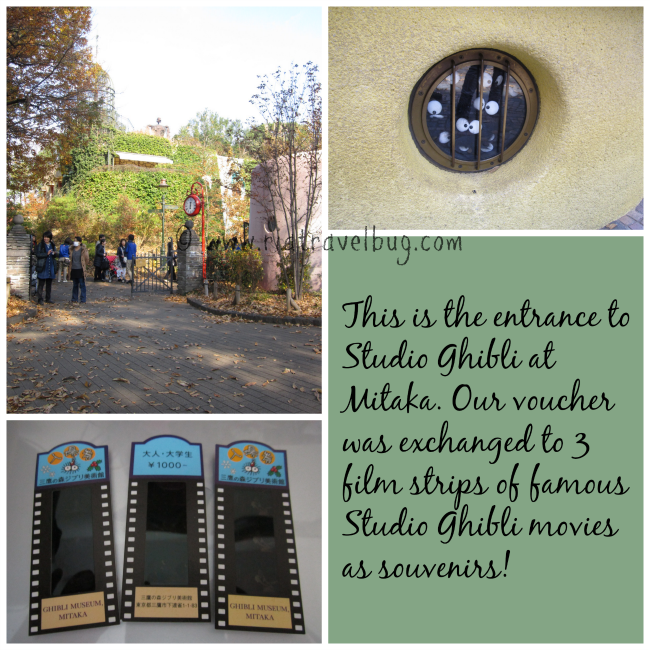 We started our journey in the morning of Dec. 4, 2013. We left Shinjuku around 9 a.m. and caught the JR Chuo line train going to Mitaka. It wasn't really hard to find because as soon as you exit the Mitaka train station, you could see the sign leading to the exit to Studio Ghibli area. We just followed that direction and saw a very big, yellow and super cute bus that really stood out from the other buses around. It was the bus that would take you to Studio Ghibli. I forgot how much the fare was.
It was brief ride from the Mitaka train station to Studio Ghibli. We passed by residential areas and small stream and there are markers that show how far Studio Ghibli is which is fitting to Studio Ghibli's norm – cute and antiquated!
Alas, we reached Studio Ghibli and we started taking pictures here and there! There's a big Totoro stuffed doll inside a ticket booth for decoration purposes. The entrance was actually in the other direction where the big Totoro was. People just loved that area because of the photo op with Totoro.
Our voucher was exchanged to 3 film reels of famous Studio Ghibli movies which are ours as keepsake.
Picture taking is not allowed once inside so I can't share anything about the wonders we saw inside. The museum is like a big mansion with several rooms to explore. There is a coffee shop and playroom for the little tykes around. There is also a souvenir shop in the higher floor and I bought several keychains, pin and face towel.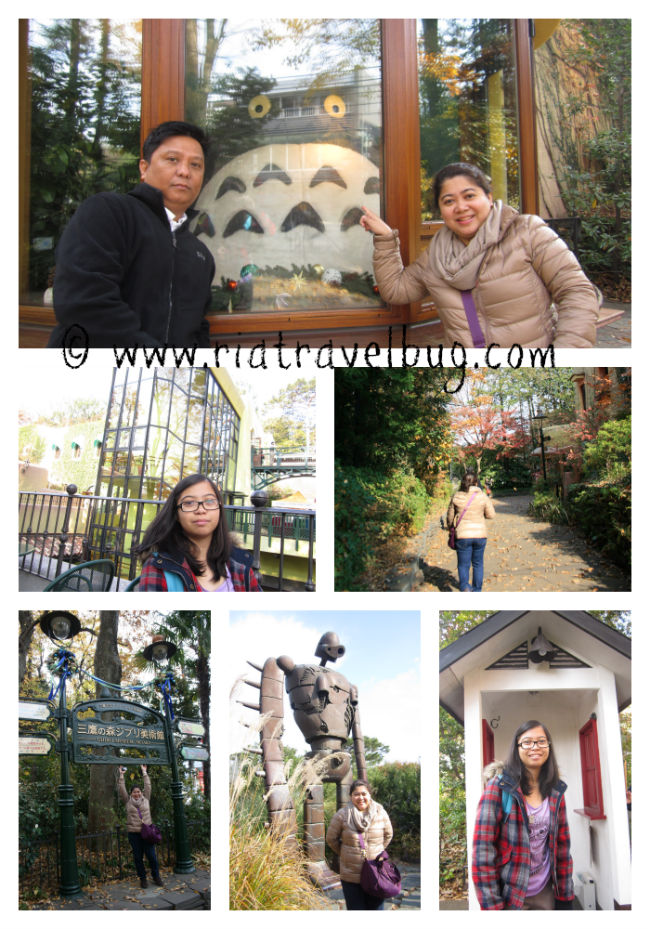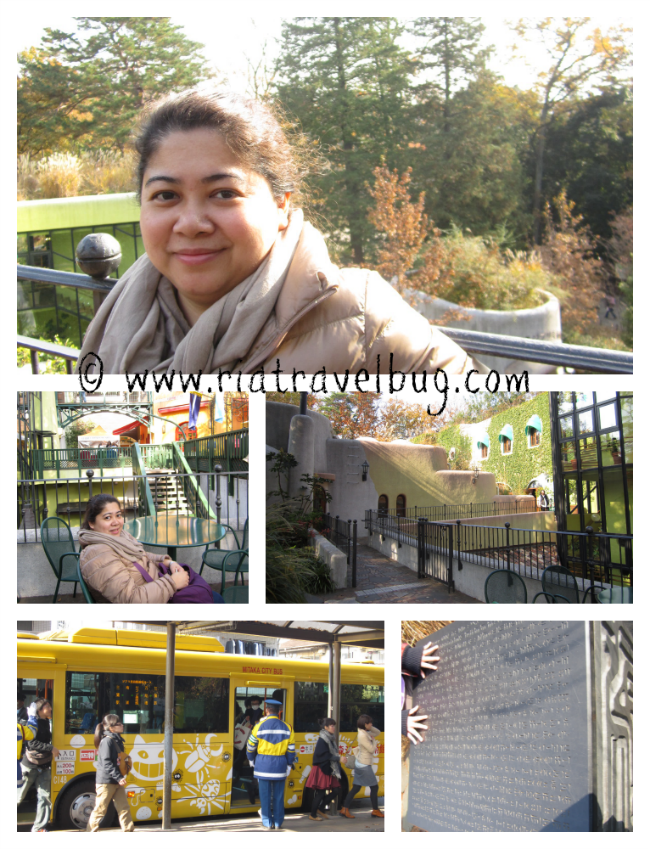 I don't mind going back to Studio Ghibli, probably stay a bit longer and maybe watch some of the movies inside too.
If you're planning to visit Tokyo anytime soon, please include Studio Ghibli in your itinerary. It is certainly something you shouldn't miss. I bought my museum pass from UK and the voucher was sent to me via Royal Mail. Just visit this site for more info and depending on which country you are in. Don't forget to arrange for your Studio Ghibli Museum pass even before you arrive in Japan. There are also outlets that sell the tickets but you'll never know if the dates you prefer are fully booked if you buy during your vacation in Japan. I say, plan it and purchase it in advance that will fit within your scheduled vacation in the Land of the Rising Sun.