Shinjuku Washington Hotel is a 3-star property managed by Fujita Kanko Inc. This massive hotel has 1296 rooms to offer both in the main and Annex buildings. For more info on the amenities, facilities, room accommodations and restaurants in the hotel, please visit their official website.
This is our first time to stay in Shinjuku Washington Hotel. I received a good deal via Hotels.com. The reason I booked this hotel is the proximity to the main Shinjuku Train station. It was connected in the basement to the subway and that was a major factor I took note of, taking into consideration that we are first timers in Tokyo. We stayed here from December 3-6, 2013.
I have a lot of things to say about this property; mostly good but I have to give an average rating for this hotel because of the comfort level of our sleep. More on that in my findings below.
What I like:

The triple bedroom is a bit spacious so we didn't have to bump the other beds while walking around the room. It is large by Japanese standards.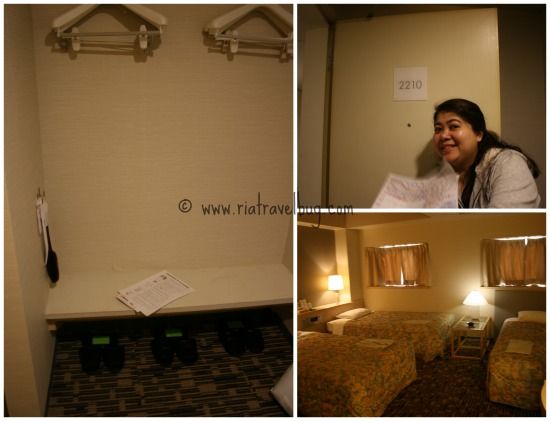 The beds are comfortable except for the pillows.
Clean bathroom and the supplies were regularly stocked and the towels changed.
Location – it is connected to the large Shinjuku train station through a passage in the basement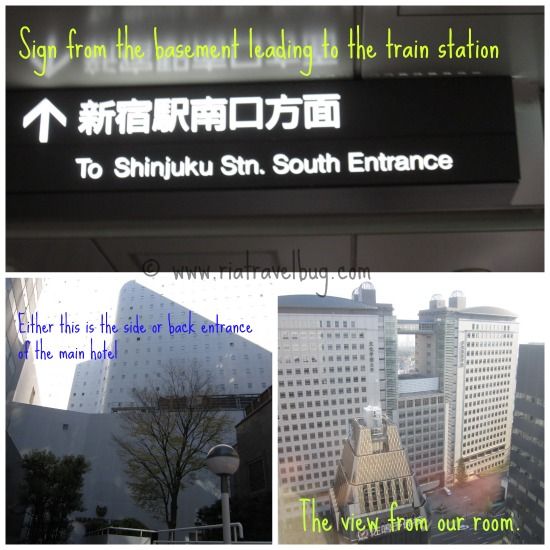 We were given a room in the 22nd floor so we had a good view of the nearby buildings and park.
The hotel has a Family Mart convenience store and souvenir shop in the first floor and several eateries in the basement.
There are plenty of restaurants at the higher floors with a good view of Shinjuku.
There's a deodorizer spray inside the room.
Hassle-free electronic check out system in the lobby. It took us barely 10 seconds to complete the checkout, granted there was no other bill to pay.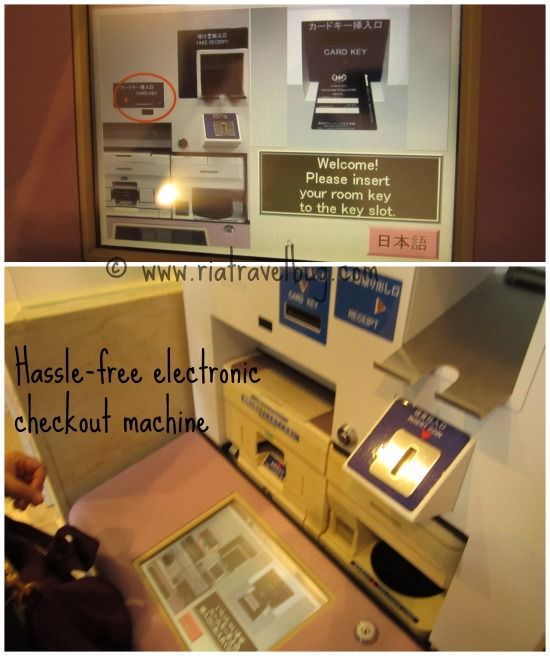 The staff were all courteous and have a good command of the English language.
The hotel is right in front of the airport limousine bus stop.
They have left-luggage facility.
It is walking distance to malls like Odakyu, Lumine and Takashimaya.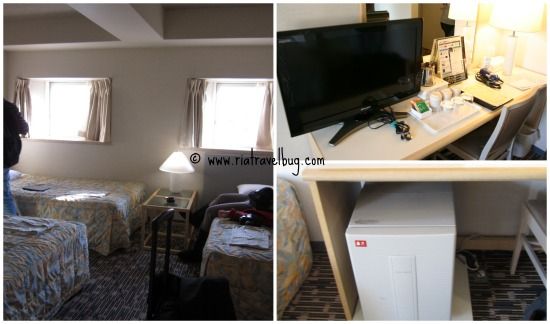 What I don't like:

The pillows are filled with pellets. I am certain they were not down nor synthetic fibers nor memory foams (except for 1 pillow which was a memory foam). They made funny "striking beads" sound and we had to touch the *pellets inside. Who fills a pillow used on your head when you sleep with chunky pellets anyway? We thought it was a new form of head massage but I kid you not. It hurts when you rest your head on those pillows. I didn't know they were filled with chunky pellets the first time we entered the room so I instantly lied down and I hurt my head. They are awfully painful on the head and the least convenient to sleep on.
The pillows were heavy. It sounded like there were small pebbles inside.
Our room was reeking with cigarette scent. NO one was smoking nearby but the whole room just smelled like that. That was the reason there was a deodorizer spray there.
The hotel switched the cool aircondition unit off and switched to the heater mode. There was a note as we checked in. However, I didn't expect that at that high floor, it would be a bit stifling due to lack of air circulation. My point here, not all people will have the same biological system. I don't feel cold quite easy compared to others and after a long day of walking, the last thing you want to have is a hot room. It was uncomfortably hot! I had to sleep without any blankets even if it was winter already. The cold outside did not do any good. It was hot and the a/c was even off!
Price:
US$ 157 per triple bedroom per night without taxes booked via Hotels.com
Room type:
Triple Bedroom
Meal plan:
No meal plan is included in the room rate
Nearby attractions:
Shinjuku Gyoen Park
Shinjuku Chuo Park
Tokyo Metropolitan Government Office (there's an observatory on the 45th floor to get a good view of Mt. Fuji if it's not very cloudy or foggy)
Shinjuku Robot Restaurant
Mosaic Street
Shinjuku Train Station
Shinjuku West Exit Camera Town
Hanazono Jinja Shrine
Shin Okubo Korean Town
Tokyo Toy Museum
Shinjuku Mitsui Building
My recommendation:
I have two recommendations for this hotel based on when you intend to stay and the season.
Based on our experience in the comfort factor – NO during winter. I will chose another hotel simply because I prefer a cooler room or at least a window I can slightly open to let the air circulate and cool the room.
However, I will give my thumbs up on this hotel during the other seasons where the A/C is fully functional.
Comfort and quality of sleep are two very important aspects that I take into consideration when I recommend a hotel. Like I mentioned earlier, I prefer a cool (not cold) room where I can have a decent sleep and please, I don't even want to lay my head on those pellets-filled pillows. However, I can let go of the pellets-filled pillows because I can always use the blanket as my pillow or ask from the concierge but when you're all poofed, energy drained from walking the whole day, I don't think you'll still have the energy left to make a fuss over pillows. All you want is to recharge and have a good sleep which in our case did not happen as we all tossed and turn due to the hot room for the whole duration of our stay.
it is unfortunate that I missed to take pictures of the pillows or took a video of it to prove I wasn't exaggerating when I say that the pillows are filled with pellets. I highlighted that and the hot room temperature on the feedback form which I handed to the concierge upon check-out.
*I refer to the contents of the pillows as pellets. I am not sure of what they are. They sounded like beads and when I tried to squeeze some, it seemed like plastic. It can be something else.