This is our first time to visit Tokyo, Japan. Our first stop in the itinerary is Tokyo Disneyland so I found this hotel in Booking.com and compared with other hotels in the vicinity of Tokyo Disney Resort. So far, this is the one that is most affordable and within walking distance.
I am not sure of the star rating of the hotel as I didn't notice any signage indicating that on the facade.
I booked the triple bedroom from Dec. 2 – 3, 2013.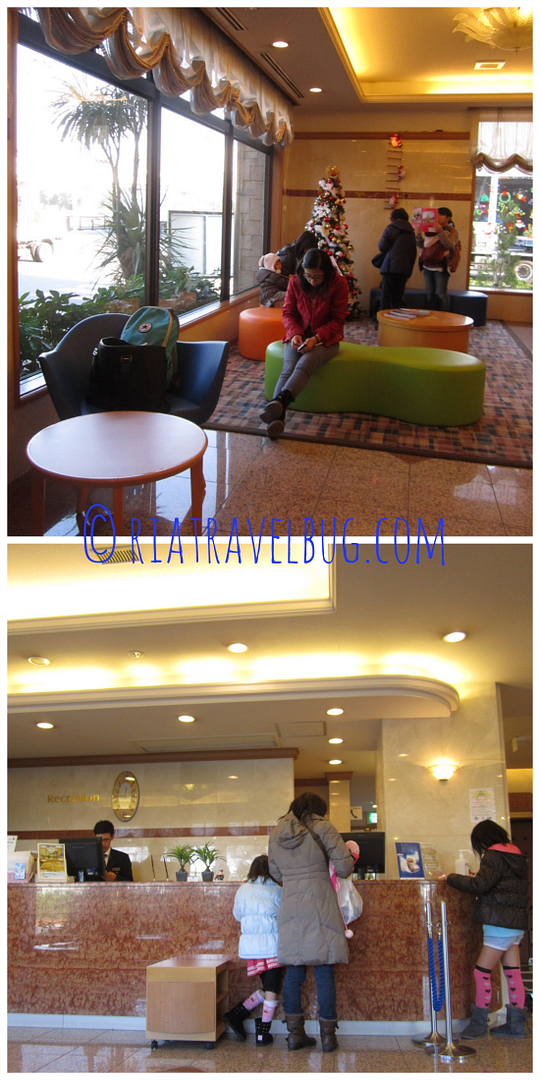 What I like:
Proximity to Tokyo Disney Resort Near JR Maihama Train Station
It is very near Ikspiari, a small shopping complex attached to the JR Maihama Station.
You can take the Shuttle bus from Haneda Airport to the nearest Disney hotel which is Disney Ambassador Hotel and walk from there, around 15 minutes walk to reach the hotel. The bus limousine fare from Haneda (Tokyo International Airport) costs ¥810 per adult, one way.
Very friendly, polite and accommodating staff. They spoke very good English and are very helpful especially when we were asking directions about how to go to Shinjuku.
Free hotel shuttle that will take you to JR Maihama Station and Disney Resort and back to the hotel
Free ice and coffee near the concierge for hotel guests
Free wi-fi in the lobby
Clean room and not very tight, just the right size for three adults considering Japanese hotels' room quarters are small by standard
There is a Leg/Feet massager machine in the room. This machine really helped relieved our sore and tired feet and legs after all the walking around Disney from morning until evening.
They allowed us to do early check in from 3 PM to 1 PM.
Left luggage facility is available.
The beds are ultra-comfortable.
The memory pillows are really nice. We all had a very nice and quality sleep.
The beds are very comfortable too.
Our room had a good view of the Disney area.
There are vending machines in the lobby if you need to buy beer, juices and water.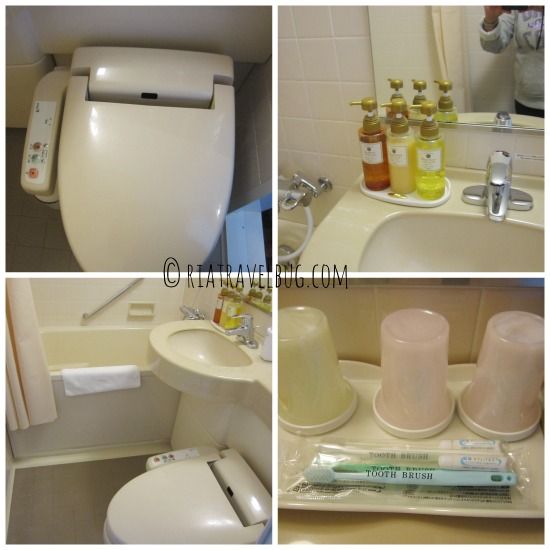 What I don't like:
Nothing. This quaint hotel is perfect for travellers whether you are a solo traveller, a couple, family, or group. The location is ideal!
Amenities:
Hair dryer
Small ref
Leg/feet massager
Free tea and condiments
Big parking space for a fee
Clothes iron / trousers press available for rent
Ice Maker
Hair dryer
Aircondition
Leg/feet massager
Price:
Total price of ¥19200 per triple bedroom per night (inclusive of 5% VAT)
Meal Plan:
No meal option included in the room rate
Nearby attractions:
Tokyo Disney Resort (Disney Sea and Disneyland)
Ikspiari (small shopping and dining complex)
Bon Voyage (Disney souvenir shop)
Kasai Rinkai Park
Urayasu City Sports Park and Gymnasium
Takasu Central and Seaside Park
My recommendation:
A big yes! This is a hotel I will be happy to recommend to everyone. It is not a very posh one but it's a good hotel that can meet all your needs. Also, this is the first time we have stayed in a hotel where they know how to value comfort. Imagine having a massager waiting for you in the comfort of your room and for free? It is like the management knew that the guests will be very tired from all that walking around Disney Resort. That massager really sealed the deal!
I will definitely consider staying here again when we visit Tokyo Disney Resort in the future. It is a simple property that has all the comfort that you need.
Hotel MyStays Maihama
is located at 279-0025, Urayasu, Tekko-dori 3-5-1, Tokyo. It is owned by Flexstay Hotel Management Co., Ltd.