This is the first time we booked a room in Hard Rock chain of hotels. I am very pleased with my choice because I got a very good deal through Booking.com. I got the rate for half the price during summer season. We booked stayed here for 2 nights and 3 days last July 4-6, 2012.
Here are my findings which I have broken down in several categories:
Ambiance:
Lobby
It was nighttime when we arrived at the hotel. It was a bit dark like a club style and there was a band performing so shouting was the method of communicating with the staff at the reception desk. I could barely hear her. I had to ask her to repeat twice or thrice what she just said. The band's audio was so loud, really loud!
The interior is fit for a rock and roll themed hotel – dark, with plenty of memorabilia display, crystal chandeliers (even inside the elevator's wall!) and urban and modern furniture.
Lighting is okay and you can feel like you are in a club or disco bar.
Concierge/Reception area
We checked in around 2145 hrs. My daughter and I were the only ones checking in so the attention was on us. Not bad when you're super tired, drowsy and disoriented from a long, bumpy flight. There is a nearby Memorabilia store for souvenirs.
Staff
We were greeted by the busboys with courtesy the moment we alighted the taxi. Our bags were taken by the busboy inside the hotel and that was appreciated. The lady who checked us in was very cordial, same with the gentleman who took our bags for us.
Floor hallway
Ample lighting but not as bright as I would prefer on hotels. Bearing in mind that the theme is rock/glam-rock kind of feel so it suits the motif.
Carpeted flooring all throughout the hallway
Accommodation:
Bedding
This is the best bedding I have ever slept on. It was better than the luxurious Marriott Hotel in Singapore! The foam is just perfect. The pillows are down so I had a good night sleep. It was clean and well kept. The headboard was the wood paneling on the wall, which was okay. I love the pull out bed though. It is a safety buffer for me because my daughter punches and kicks when she is asleep so I can bunk on the pull out bed if she starts getting "violent" while asleep.
Amenities
There is a long table, which also act as a study and vanity table. The only problem I had was the lack of chair to use when I had to use the laptop or do my make-up. There is a yellow odd-shaped stool inside the bathroom that I used as a stool. There is a long window bedding or seating area that can double as another bed for younger folks or guest.
There is a pressing table, flat iron, dual opening closet (which also opens from the bathroom) and a mini-safe
Mini bar
It is well stocked with 5 complimentary water from RWS and the rest of other juices and soda for a fee. There is also a complimentary coffee, sugar, tea and creamer for the guest. There are enough drinking glasses (2 from the mini-bar and 2 from the bathroom) to use and 2 drinking cups, a percolator and an ice bucket. The hotel does give free ice cubes in the ice room. There is one in our floor. I am not sure if there is ice room on every floor though.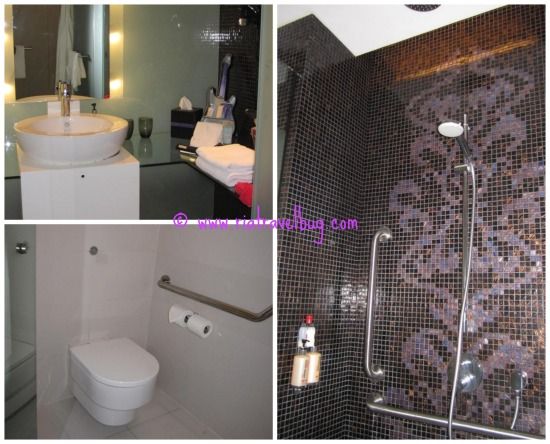 Bathroom
I find the washing area with the vanity a bit tight. I had to bump my daughter when she was standing next to me while I brush my teeth and she, while brushing her hair. The mirror was a bit small.
I love the separate shower and toilet though. My only complaint is the lack of proper hanging place for our clothes inside the shower area where we are taking the bath. I had to leave the towel just outside. Also, both the separate enclosures have glass doors. But the water is trickling outside too and the bathroom floor closer to the shower area gets wet a lot.
Entry hallway in the room
This is a huge entry hallway for a bedroom. I like that we can leave our bags there without tripping because there are actually enough space around.
Outside the hotel:
Façade
The façade is nice with the big logo of Hard Rock. You cannot miss it and it's a nice photo op as well as there is a big guitar in the middle just few meters away from the drop-off point for guests that leads to the hotel.
Back of the hotel
The gigantic pool with a simulated beach shore is located at the back of the hotel. You're lucky if your room is facing the pool side. Ours was facing the front so we didn't have a good view. The pool has a nice sunken bar and there is enough space for everyone to swim around as it is a huge pool and also, there are enough lounging area to wait for your kids or family members while they enjoy a good dip in the pool.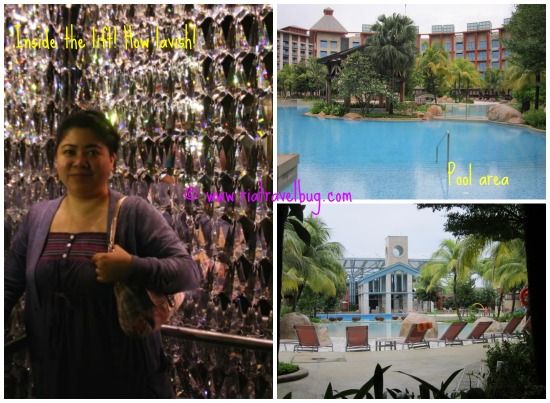 What I like:
The location is probably one of the selling point of this property. It is very near the Universal Studios which was why I booked this hotel in the first place. It is tucked inside the Resorts World Sentosa compound so it is very quiet.
The personalized greeting on the TV screen in the room. I find that very cute and appealing.
The price was a good deal during the time of my booking. Normally, this hotel will fetch for US$290 ++ for a night. I got the hotel rate per night for only US$95++ per night. Now, that is a very good deal!
The staff were all friendly and accommodating.
The room is big and very clean.
The bed is comfortable.
There is a good wide selection in their breakfast buffet. I paid for SGD 39++ (approx US$30++) per person.
What I don't like:
The very noisy lobby when the band played at night. It was loud. They don't seem to have any audio control to lower the volume of their amplifiers and speakers. I find it really distracting.
The bathroom vanity area is a tight quarter.
Checking out can be chaotic. The concierge is rather small and manned by 2 staff at the time I checked out considering it is a big property with 364 rooms to boast.
Price:
Room Type:
Double Deluxe
Nearby attractions:
Resorts World Sentosa
Universal Studios Singapore
Sentosa Resort
ViVoCity Shopping Mall
Adventure Cove Waterpark
Maritime Experiential Museum
My recommendation:
Yes. I recommend this fairly new hotel to families with older kids rather than those with younger kids simply because its ambience is not so kid-friendly. I think the band playing in the lobby is distracting and kids won't enjoy that. They will find the large pool inviting though!
This hotel is great for couples and families with older kids. Business travelers who are seeking a short break from the hustle and bustle of the city life will find this hotel a bit noisy for their taste.
You can find more information about this hotel, location and other facilities and amenities, please check the official
website
. Hard Rock Hotel in Singapore is located at 8 Sentosa Gateway, Sentosa Island, Singapore.
If you wish to book this hotel, please check
Booking.com
for low rates and really competitive prices (subject to availability and rates subject to change without prior notice).
Disclosure:
This hotel review is my personal review. I have paid for this stay and in no way sponsored by the property nor Booking.com. I just love to book via Booking.com because I always find a very competitive rate or great deals when compared to other booking sites.