Seoul, South Korea is a beautiful place to go to. We had the chance to visit the place 3 years ago when we met up with my mom-in-law and sister-in-law's family. It was a hush-hush trip since my mom-in-law didn't know we would be in Seoul too. She thought, it was her birthday gift trip from her children but little did she know, we had everything planned out.
I really enjoyed the 4 days we had spent in Seoul. We were there last October 29 to November 1, 2010. It was our first trip and hopefully, not the last. A week after that Asian trip, we headed to NYC and boy! That must be the most terrible jet-lag we have had experienced in all our travels.
We all enjoyed the short vacation. The weather was lovely as it was autumn. The autumn foliage was a sight to behold when we saw plenty of trees in dark shades of orange to red. It was not that freezing yet but it was cold enough to warrant heavy warm clothing.
Our accommodation was a very cheap hostel in Jung-gu but in the main area near the Gwanghwamun Gate and other tourists attractions. It was very small so we booked another room for our daughter and my mom-in-law while my sis-in-law's family stay in another area near the Myeong-dong Street, also known as the Fashion Mecca in Seoul.
Going around Seoul is quite easy. I find the subways in NYC more complex. You just have to note which line you have to take so you wouldn't get lost. I am glad my hubby took the rein in leading all of us in exploring Seoul using the subway and bus systems. We just asked the locals (who are all getting very good with the English language) for directions if we were a bit confused. We managed to see some of the tourists attractions of Seoul and even had the time to spend the whole afternoon in Everland, Seoul's Disney-like theme park.
Eating is not a problem. If you want the real feel of your South Korean visit then you should try their Korean dishes like the famous kimchi, bibimbap and bulgogi, amongst others. There are plenty of western fast food joints and restaurants too.
Here are some of the pictures of our wonderful vacation in Seoul. I don't mind going back.
Below pictures were taken in the Gwanghwamun square near Admiral Yi Sunshin Shrine and framed by the 12:23 Fountain. The other picture is the Statue of King Sejong the Great. Below that imposing structure is an exhibit "The Story of King Sejong."
Below pictures were also taken in the Gwanghwamun square leading to the Gwanghwamun Gate. Inside is the Gyeongbokgung Palace.
In the Gyeongbokgung Palace grounds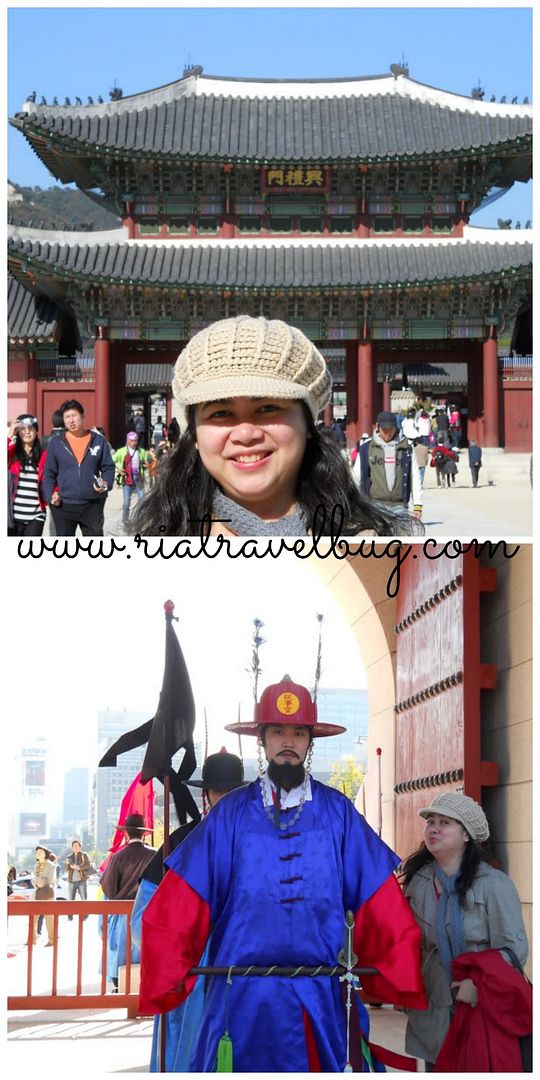 Inside the King Sejong exhibit and some fancy stairs near the square.
Below are snaps taken near the Lotte Department store. This is where we took the bus going to Everland Resort.
Below are snaps taken near Myeongdong and the motorized diagonal lift leading to N Seoul Tower.
More pictures of our adventure in Everland Resort in my next post…