I haven't stayed in hostels nor motels in my life yet. I have read reviews and heard my friends' accounts on their stay in such accommodation. So, my expectations for such kind of accommodation is almost nil. However, I still have a set of criteria in mind about staying in inns/motels/hostels for that matter. Red Carpet Inn in Niagara Falls fell so short of what is decent for my taste and preference. It is an old accommodation that seriously need updating or better yet, over-hauling.
The price:
We booked 2 Queen Rooms in Red Carpet Inn in 6625 Niagara Falls, Niagara Falls, NY 14304 via Booking.com at a very good deal of $49 each room for 2 nights without tax and non-refundable. The rate included breakfast and unlimited supply of coffee from the reception area. The breakfast consisted of cookies and coffee and that was about it. We stayed here from April 1 to 3, 2013.
The room given to us was #4 and #5. We were the only guests in the whole compound. Before arriving in Niagara, my husband requested for an extension of 2 more nights. We were told it was full but upon arriving there, we didn't see any other guests, just us. But I am thankful that the request was turned down, otherwise, we would have to bear the cold rooms for another 2 nights. That would have been a complete punishment for us.
The amenities/services:
Non-smoking rooms
Heating/Air Conditioning
Fax/Photocopying
Free WiFi in all areas
Free parking
Microwave
Mini-refrigerator
TV
Toiletries
Some of our photos: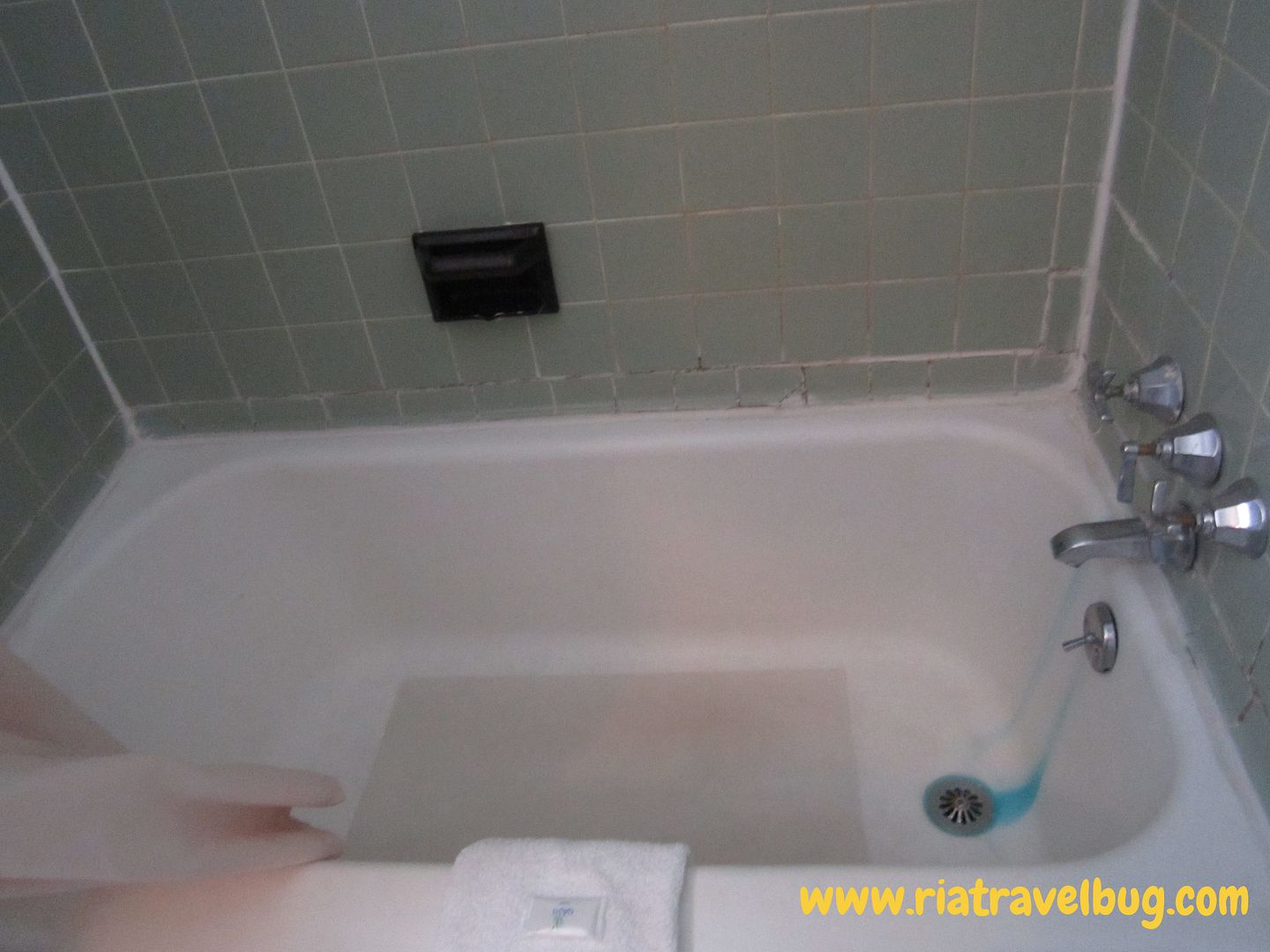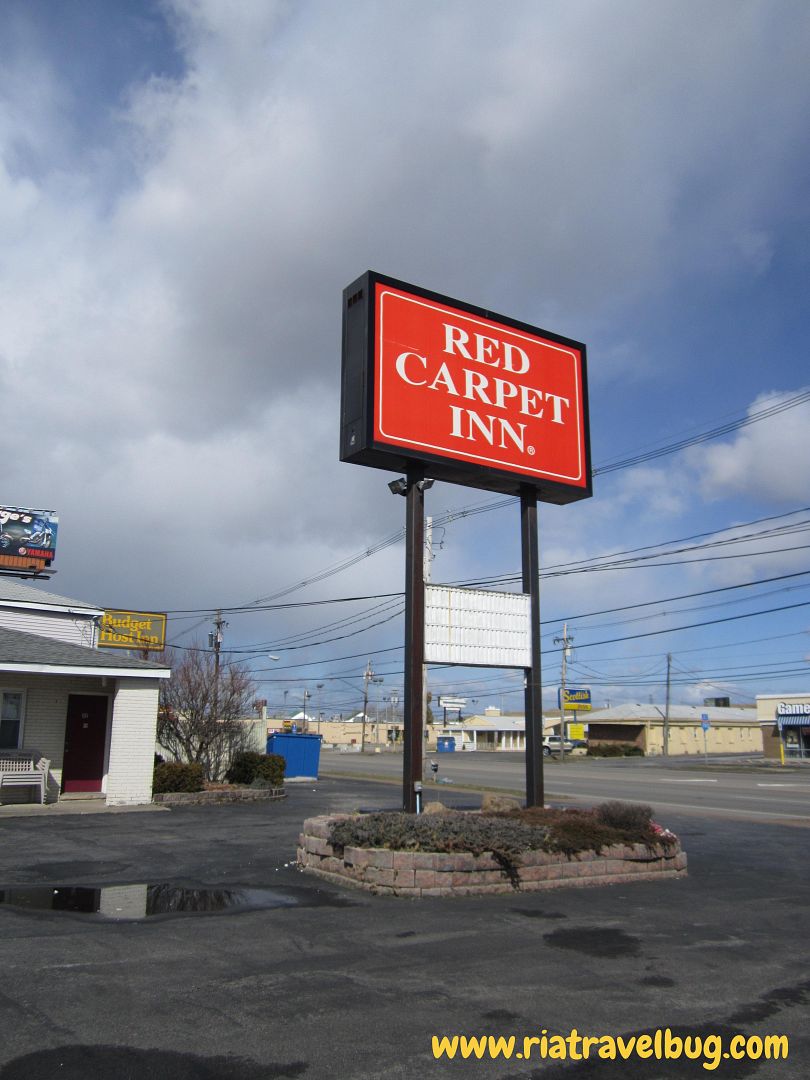 What I don't like:
Room #4 – This is where my husband and I stayed. The room is dark and cold. The heater broke down a day before we left so our room was very cold. We were given a portable heater which was so small that it could not heat the entire room. The 2 lights above our bed got busted. So for 1 night, we were left with one working lamp near the door. The carpet looked very dingy. There were stains on the wall and I don't even want to know what they are. We kept having static reception on the TV. The door locks didn't look stable nor safe nor secured. The lighting was insufficient. There were only 3 lamps in the whole room. All of them were dim. There was a slight gap on the door so the cold air could pass through. And if your room heater is busted, this is the last thing you ever want to have, a cold draft. The bathroom door does not lock. I had to wedge a bag so it does not open.
Room#5 – This is where my daughter and mom-in-law stayed. The door's lock is not very stable and is wobbly. If you push it real hard, the whole locking mechanism might just fall off! The double lock's wooden frame is busted so I had to instruct my mom-in-law and daughter to wedge a chair on the door knob and push the big table in front of the door before they sleep at night. They didn't have another chain lock too so it was easy to kick their door open which is a big no-no for security. The heater worked but it wasn't powerful enough to heat the entire room. The reception area is not open for 24 hours. I think they closed around 7-8 pm so when we needed hot coffee at that time, we could not buzz them anymore.
What I like:
The location of the inn is along Niagara Falls Blvd. and very near the Fashion Outlet and other shops. It is right beside KFC so if you get hungry, you can just walk to KFC. It has ample parking.
The reception staff (an elderly Indian guy named Mr. Patel) is a very nice fellow. He is friendly and accommodating. Service was quick when I called for the busted heater and lights. We were given a portable heater in exchange but the heater was so small to heat the entire room.
The rooms are big enough for a small family with enough walking space so you don't hit your knees or legs on the corners of the bed or table.
The price is okay.
The bathroom is clean and well stocked. They cleaned our room daily and supplied our bathroom amenities, and changed the towels.
The big, spacious and doorless closet. We used it to store our luggages as well.
My recommendation:
Much as I like the friendly and welcoming staff of the Red Carpet Inn, I don't think I can recommend this place because of the main reason of security, comfort and cleanliness. I can overlook other matters but not when it comes to our safety which is my primary concern. However, if the management decides to upgrade their dead-bolt locks, add chain locks in all rooms and fix the small door gaps on the floor, then I may recommend this. Also if you are not finicky and do not mind sleeping in cold rooms (when temperature drops to negative!) with a heater that barely heats the place, then you can go ahead and book here.