America's Best Value Inn (ABVI) in Niagara Falls in New York is a budget accommodation with 88 rooms for travelers. It caters to families, groups of travelers, couples and even single travelers. We booked our Double Room with double beds in ABVI in 6505 Niagara Falls Boulevard, Niagara Falls (New York), NY 14304 via Booking.com and got a good deal. We stayed there from April 3 to 5, 2013.
The price:
The room was pegged at $47.99/double bedroom per night without taxes. So our total bill for 2 nights was $95.98 (without taxes) with breakfast. I have no high expectations for the property since it is a budget accommodation. However, the place is quite lovely compared to the other property (Red Carpet Inn) where we stayed for the first 2 nights.
The amenities/services:
24-hour front desk
Garden area
Ice cooler
CCTV/security cams in all the premises including all the exit/entrance and staircases
Non-smoking rooms
Mini-refrigerator
Microwave oven in the room
Safety deposit box
Pressing table and iron
Toiletries
Hair dryer
Heating/Air conditioning
Fitness centre
Games room
Outdoor pool (seasonal)
Business center, fax/photocopying/use of computer
Laundry
Tour desk
Breakfast area/pantry
Vending machines for drinks and snacks
WiFi is available in all areas and is free of charge
Ample/spacious and free parking
Pets are allowed on request
Some of our photos:
Very comfortable beds! I wish the comforters were a lot thicker because it was so cold in Niagara Falls.
The pregnant TV! The management must consider to catch up with the hi-tech times.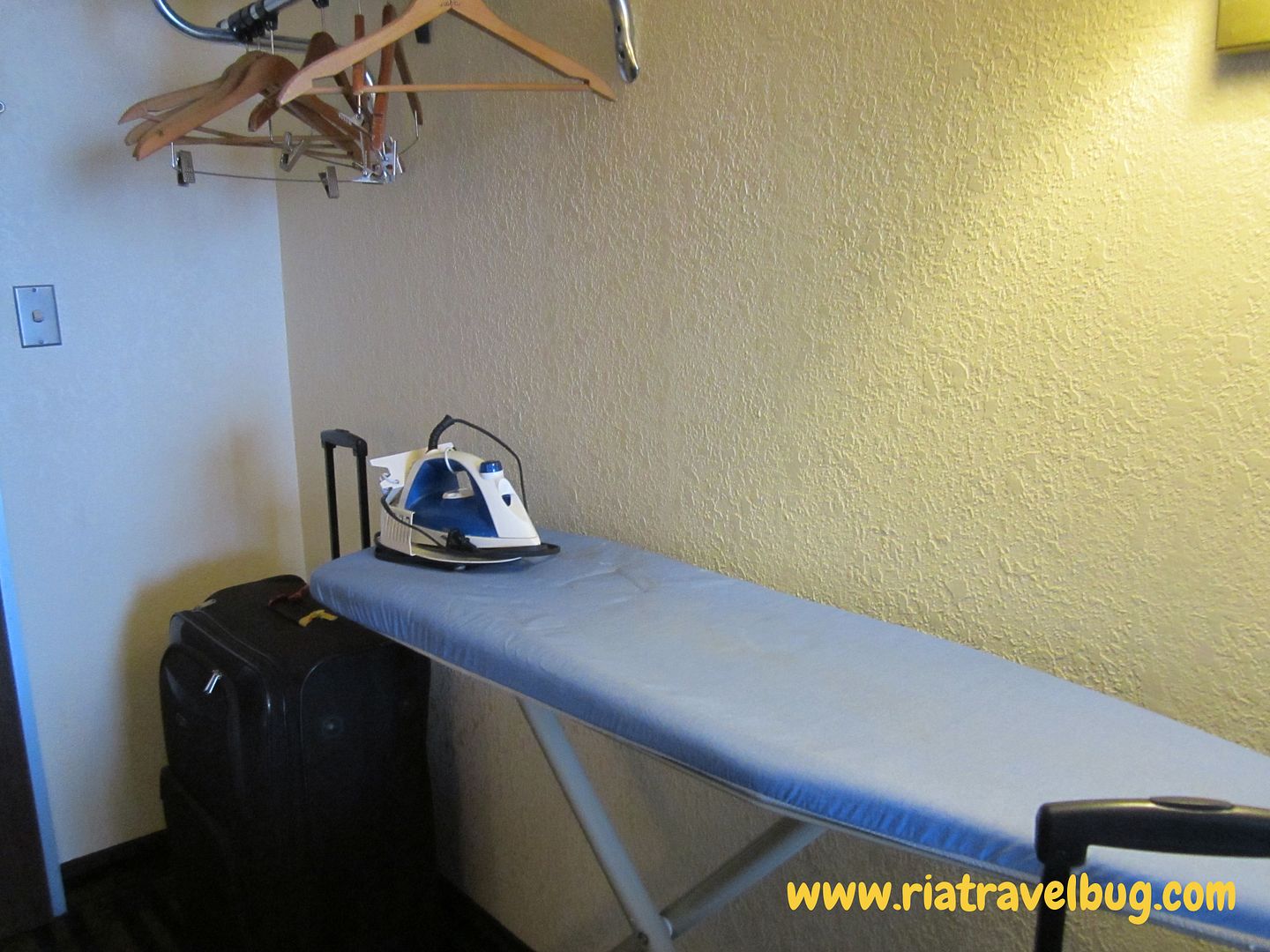 No cabinet, ergo, more space for our luggage and loots.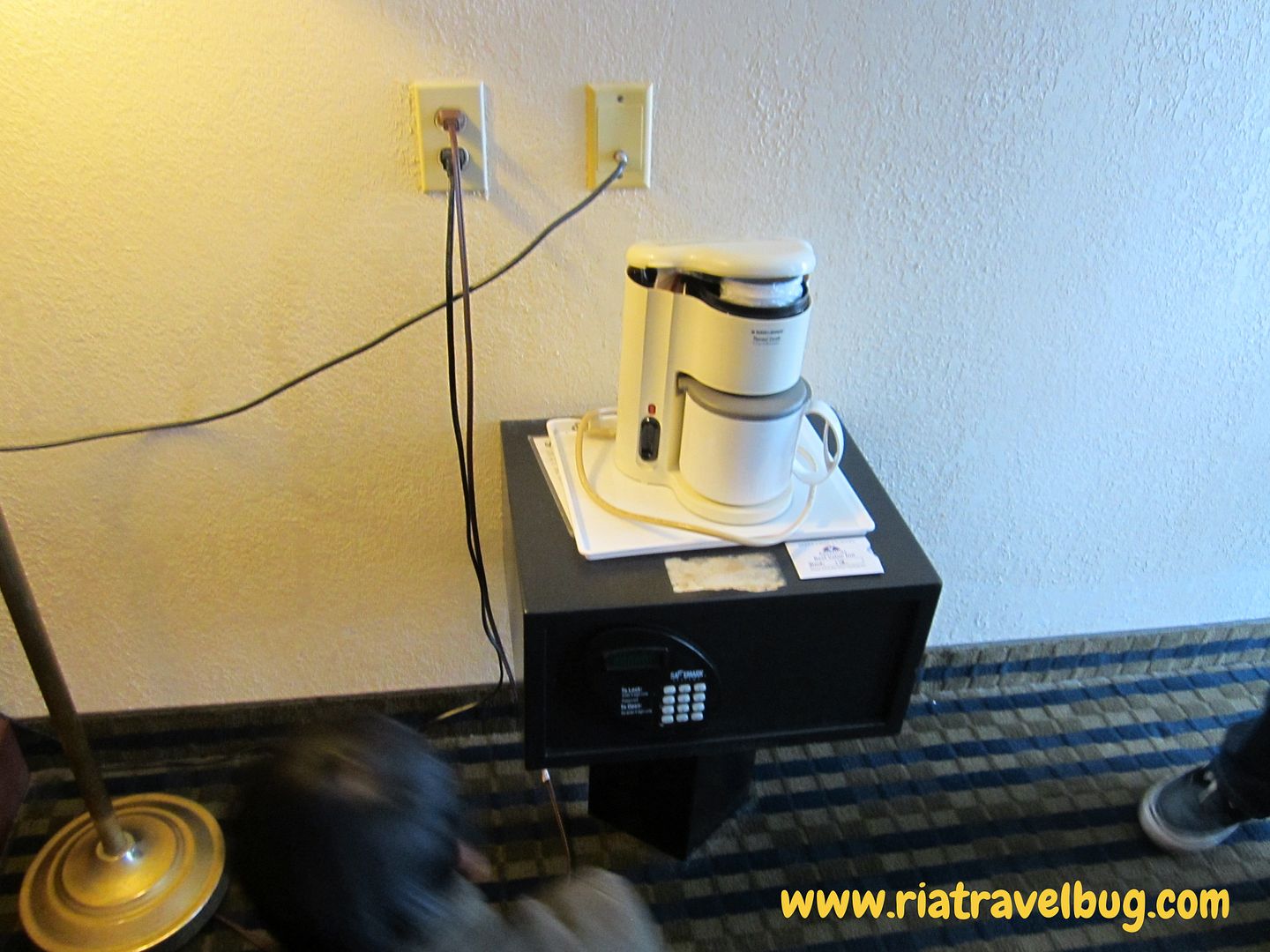 The safe box and percolator.
Breakfast area with bagels, donuts, cupcakes, sliced breads
The other side of the breakfast area where the coffee, cereals, milk, juices and other condiments were.
The tissue box without any tissue.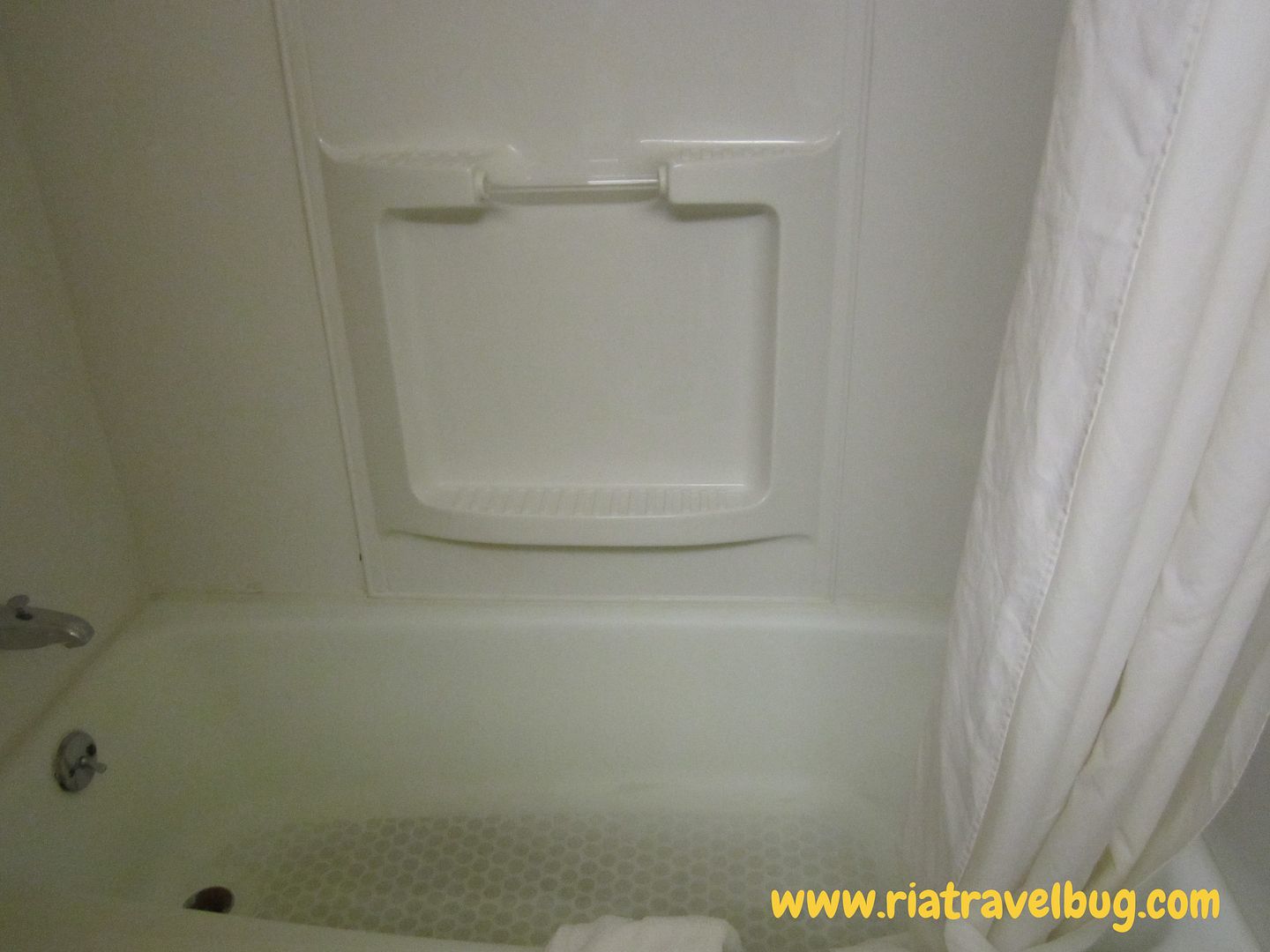 See that grayish area on the tub's floor? It needs serious scrubbing and steaming!
Amazingly clean faucet area and toilet bowl.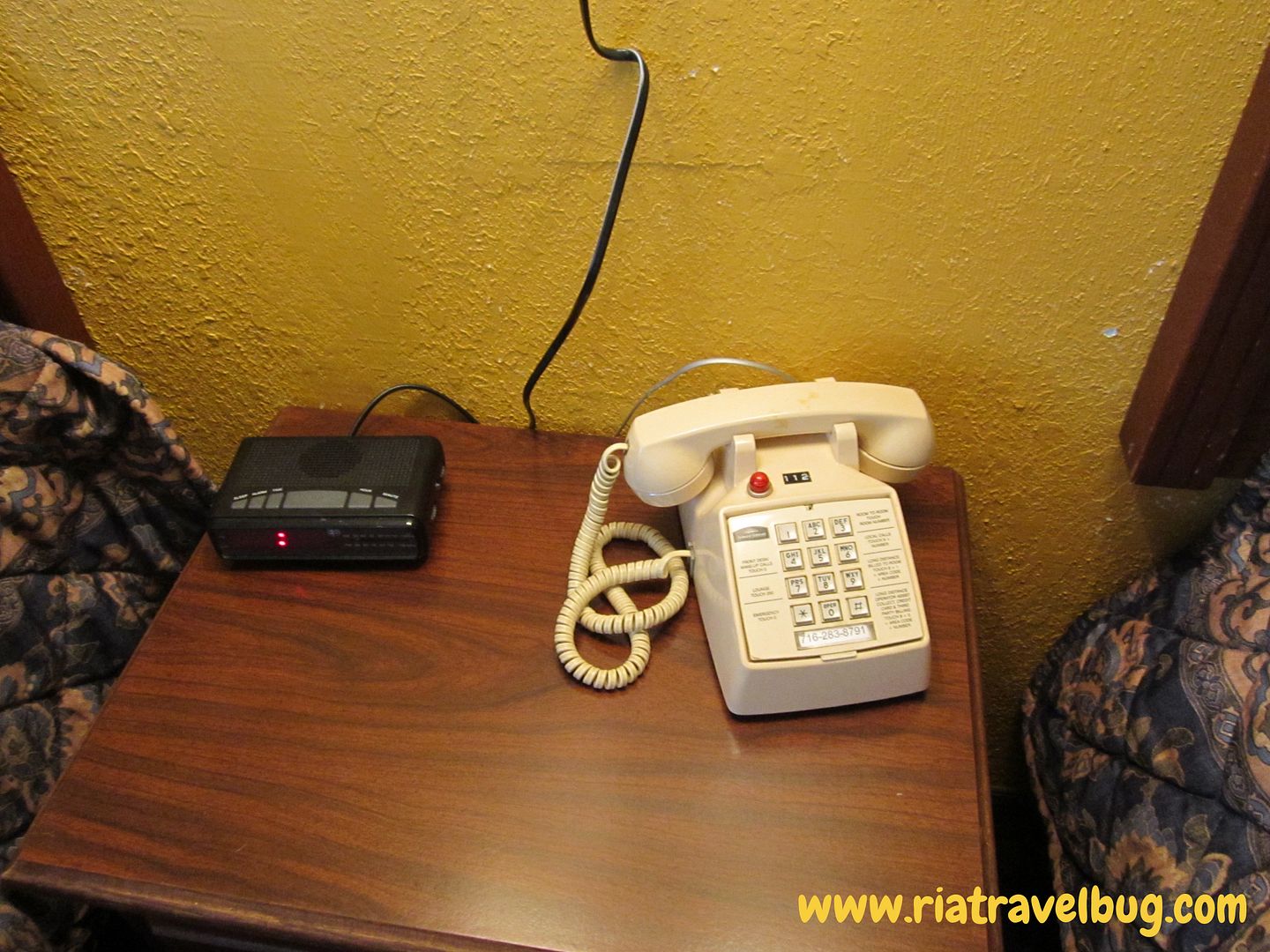 Another antiquated fixture in the room – the old box phone.
What I like:
The location is perfect! It was next to Bob Evans Restaurant and behind it is Dunkin' Donuts. It is also just a few minutes drive to the Fashion Outlet Mall and other nearby shops and groceries like One Dollar Store, Walgreens, K-Mart, and more.
All children or adults stay free when using existing beds
They allow pets!
It is also approximately 3 miles from Niagara Falls and Seneca Niagara Casino and the Old Falls area and 4 miles from the Aquarium of Niagara Falls and Castellani Art Museum.
The room is very spacious with a big sliding door overlooking the outdoor pool and nearby roads. I find the lack of cabinet a plus factor because it made the room very spacious with enough area to place your luggage and loots from the malls. The overhead hanging rack with hangers made up for the lack of built-in cabinets.
The wifi is free in all the areas of the motel. However, our room was almost at the end of the hallway so I felt the reception was not as strong as it should but hey, I wasn't complaining because at least, we were connected all the time.
The beds are huge and comfortable.
The toilet is spacious.
The price is superb!
The front desk is manned 24/7. However, if there is no one in the front desk if you check in, you can always buzz them.
The elderly man in the front desk was gracious and quick to check us out at 3:30 a.m.! Unfortunately, I was rushing and had no time to get his name to personally commend him in this review.
There are vending machines for snacks and sodas if you feel hungry and too lazy to buy out.
The pantry/breakfast nook is roomy and can probably seat 20-40 at a time.
The motel has ample parking space and it is free.
It is incredibly quiet even if it was just right along the main thoroughfare. We didn't hear the outside traffic at all from our room.
What I don't like:
The "Asian" descent lady who never smiled no matter how courteous we were. She even reprimanded me when we came back around 10:30 a.m. for our check in. We initially came around 8 a.m. to ask if we can check in early just in case the room was available. She advised us to come back around 11 a.m. Come on, it was just half an hour from the time she mentioned and she told us it wasn't even 11 a.m. yet as she had instructed us. We just didn't mind her. She might have been having her "menopausal moment." Just kidding! Nevertheless, she gave us the key to our room around 11:05 a.m. So what was the fuss all about for being punctual?
The bathroom was clean but I feel the management could do better than that. You can see from the photos above that the tub needs some serious scrubbing and they need to fill that tissue box near the vanity as well with what else – TISSUE.
The room's lack of sufficient lighting. I am not comfortable with just night stand lamps and pin lights near the door. I hope the management will add more lighting fixtures in the future.
The carpet looked like it wasn't cleaned for some time. It didn't smell and neither it was clean.
The phone and TV were quite outdated. The last time I saw and used that kind of phone receiver was when I was still in elementary. I think they should catch up with the times and start installing state of the art phone and flat screen TVs.
The other vending machine did not have anything inside.
My recommendations:
I can overlook the little inconveniences we experienced if I will compare it to the overall plus factor of the motel.
It just needs a little updating that's all but I will definitely recommend this to everyone whether you are a fussy or practical traveler like us. The motel is also great for those with small kids and teens as they have gaming area and outdoor pool (seasonal).
My family and I will consider this accommodate again if ever we visit Niagara Falls, NY in the future.
(This is not a paid post for the above mentioned property. All opinions and photos are 100% mine and personal.)