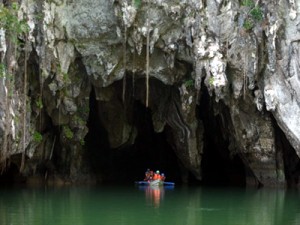 Photo credit: globalnation.inquirer.net
It is a pride and joy to know that our very own Palawan's Underground River has made it to provisional list of the new 7 Wonders of the World based on the result release by New7Wonders in Zurich, Switzerland.
I have not been in Palawan yet but seeing the magnificent view of the province's natural beauty is enough to make me want to go there and see the wonder up close.
The Puerto Princesa's subterranean river is a navigable underground river. Old trees grow by the river banks and near the mouth of the cave. The cave features limestone karst mountain landscape and plenty of stalagmites, stalactites and beautiful chambers to boast.
I hope the PPUR will make it to the final list which will be announced early 2012. I also hope that the Philippines and the local government of Palawan will be ready to accept throngs of visiting tourists especially now that PPUR has reached elite and global status.